Add to Your Yard and Garden With Plants From Cooperative Extension
Believe it or not, Spring is just around the corner. You can add to your landscape, and help support local Cooperative Extension programs at the same time. The Cabarrus County Cooperative Extension program is selling a variety of berry plants, flowering trees, fruit trees and shrubs this month to support 4-H and Extension program efforts in the county. Everything you need to know about plant varieties and to place you order online is available on our plant sale website. But, what do you do with these plants once you get them home? I've put together some useful information to be used in planting blueberry plants.
The varieties of blueberry plants t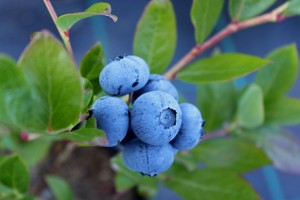 he Cooperative Extension office is selling are well adapted to our growing climate. For home planting, it is recommended that two or more varieties of blueberries be planted together to assure higher yields and better quality fruit. This is a direct result of cross-pollination.
Blueberries have a shallow root system. Therefore, only the top 6 to 12 inches of the soil needs to be prepared. You can prepare the soil in the same way you do to grow azaleas or rhododendrons. The area you choose should be well drained. Excess water should be able to drain away from blueberry plants within a few hours. The area should be free of grass and weeds. When the planting site is determined, place 1/2 bushel of composted material on top. Peat moss, leaves, bark or sawdust will do. Work the mulch into the top 8 inches of the soil within a 2 to 3 foot diameter of each plant.
Blueberry plants will grow in full shade to full sun. The more shade the plant is exposed to will result in a lower fruit production.
The plants sold by Cabarrus County Cooperative Extension do not need to be pruned before planting. Following the first harvest season, it is normally advantageous to prune 1/3 to 1/2 of the plant. This can be accomplished by cutting back, cutting out or a combination of both. You can prune to a desired shape any time of the year. However, for minimal fruit loss it is best to prune just at the end of harvest season.
When planting your blueberries, they should be spaced 3 to 6 feet apart. Planting at three feet will give a high density planting and form a hedge quickly. Rake back an area about 3-4 inches deep. Place the plant in the center of the area and fan the roots out in all directions. Holding the plant upright, rake the soil back over the roots and pack firmly. Wet the soil sufficiently.
The root area of blueberries should always be kept moist. You can use fertilizers formulated for azaleas or rhododendrons on your blueberry plants. These plants can only tolerate small amounts of nitrogen at a time.
If you do order blueberry plants from the Extension office, you will also receive planting guidelines similar to these listed above. If you have further questions regarding blueberry planting, please call the Cabarrus Cooperative Extension Office at 704-920-3310 weekdays from 8:00 a.m. until 5:00 p.m.
More information about the Extension plant sale along with an online order form is available on our website: https://cabarrus.ces.ncsu.edu. You can also call the Extension Office at 704-920-3310. The deadline to place an order is February 24 at 12 noon. The plants can be picked up at the Cabarrus Cooperative Extension office (715 Cabarrus Ave West, Concord, NC 28027) on Thursday, March 3 between 9 a.m. and 5 p.m. or Friday, March 4 between 9 a.m. and 5 p.m.