Cabarrus Cattlemen's Association Meeting – Oct. 18, 2018
This will be the first Cattlemen's Association Meeting of the fall! Please plan to attend and spread the word to those that may not receive this email. The topics covered for the upcoming Cattlemen's Meetings have been selected/discussed by local producers, so you can be sure to learn something that you can take back to your farm! The event details and agenda are listed below for the October 18 meeting. Please do not hesitate to reach out if you have any questions.
Cabarrus Cattlemen's Association Meeting
5 – 6 p.m. Viewing of the Propst Farm Bulls, 1659 Concord Farms Road, Concord NC 28027
7 – 9 p.m. Meal and talk, Propst Farm Pavillion, 5220 Weddington Road, Concord, NC 28027
Please RSVP through the N.C. Cooperative Extension of Cabarrus County office or by contacting Nathan Kiger at 704-920-3310 by October 12, 2018.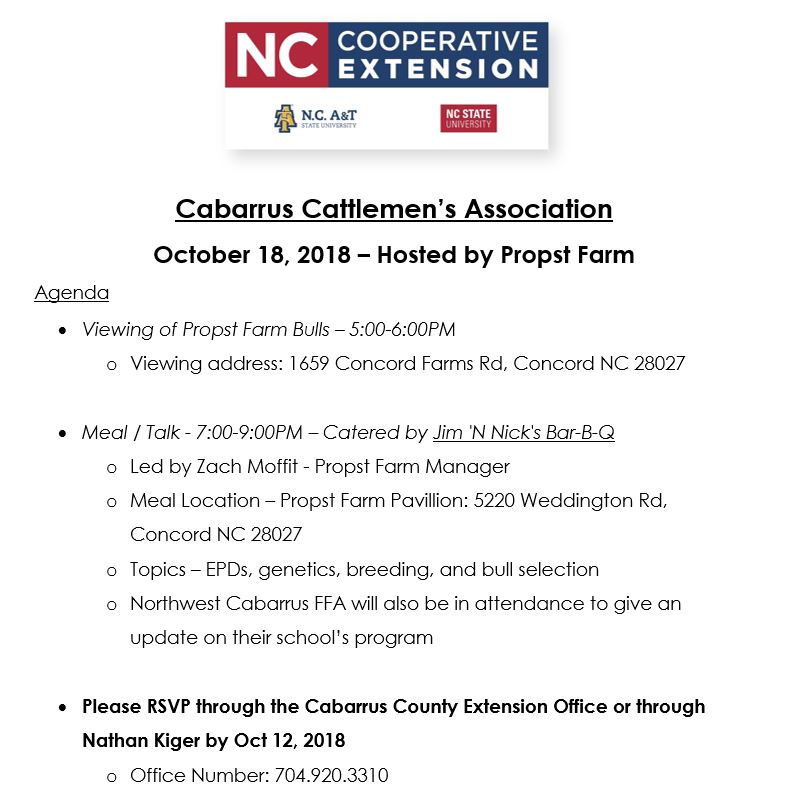 Thank you and we look forward to seeing you there!